Ladies it's that time of year again and the festive countdown has begun. Christmas and New Year parties are just around the corner, which can lead to a lack of sleep and dehydrated skin (exactly what we don't want for the party season!).
We have been working alongside Claudia Fallah, micro – trauma specialist and designer of a luxury care range which focuses on skin micro trauma's and sensitivity to bring you the ultimate guide to solving your acne this Christmas.
The guide will help you to understand what's behind this problematic skin condition and how some daily habits can make acne worse and what can make it better.
Top tips to avoid acne breakouts
May all your Christmas wishes come true… but if it's perfectly cleansed skin and a bright, glowing complexion you want, don't leave it to chance. Here are some tips:
1. Cleansing routine.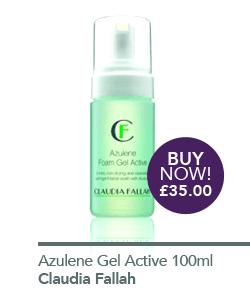 Taking your make up off may be the last thing on your mind after a night out, but it has never been so important! Leaving your make up on can lead to bacteria accumulation, dull skin and it will quickly lose its glow.
Claudia Fallah's Azulene Foam Gel Active (£35.00) is an essential morning and evening facial wash. This is a gentle, NON-drying, anti-inflammatory and antibacterial solution. It has a uplifting, refreshing 'feel-good' aroma of distant summer's evenings in the Mediterranean orange groves. The facial wash has been formulated to cleanse and energise even the most delicate skin, leaving you with a glowing, brighter, fresher, even complexion.
2. Exfoliating your skin is bad if you have acne.
Exfoliating is a no no! Using more products does not equal better skin. Stay away from facial scrubs. Even the gentlest ones made from brown sugar can tear at skin.
3. Calm your skin with a toner.
Not only does facial toner calm your skin but also it makes it look brighter, healthier and has long-term benefits, which includes reducing acne, scarring and preventing future breakouts. Try to opt for an alcohol free toner so that it doesn't dry your skin out.
Calming Herbal Lotion (£33.75) by Claudia Fallah is an alcohol free spritz designed to sooth, calm, clarify and refresh your skin. This toner's ingredients include Honey, a natural antibiotic, Lavender and German Chamomile, to calm and balance, Thyme, renown in the treatment of boils, Witch hazel to tone and Aloe Vera to soothe your skin. All of these delicious ingredients come together with a beautiful aroma reminiscent of a hedonistic early summer's day in the Provence.
4. Cover up but keep your skin feeling and looking fresh.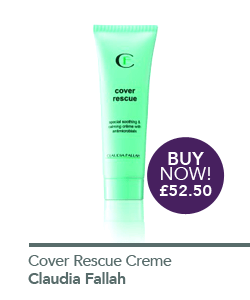 Having acne doesn't mean you have to completely stay away from make up, but you must let your skin breathe so foundation probably isn't the best option.
Try Claudia Fallah's Cover Rescue (£52.50). This is a highly concentrated skin rescue crème originally formulated to moisturise, cool, protect and calm the skin after peeling treatments. It helps to cover redness and skin irritation. Additionally it acts to relieve and soothe distressed skin and accelerates skin healing. It has anti-inflammatory, anti-fungal, and anti-microbial properties that makes it excellent at protecting against infection.
Cover Rescue is designed to cover, protect and rescue skin suffering from a range of trauma's like acne. It comes in shades to match different skins tones. This can be used to camouflage the problem while helping accelerate the skins natural healing process. While it is covering it is rescuing the problem not making it worse!
5. Claudia's top tip: "A clean environment will improve your acne".
* Make sure towels are clean or use tissue instead for your beauty routine.
* Clean makeup sponges and brushes regularly.
* Keep pillowcases clean and changed regularly.
* Even mobile smart phones need a quick wipe to keep them clean!
All the above are very important to follow if you suffer from acne, as otherwise your skin can be re contaminated and hinder your recovery time!
Our cheat sheet to prevent acne breakouts