If you have tried and tested everything but acne is still plaguing your life, we have the ultimate guide to help you fight your acne breakouts. We have teamed up with
Claudia Fallah
, micro – trauma specialist, to bring you several acne busting solutions to solve your skin problem once and for all whilst also boosting your confidence.
Top tips to avoid acne breakouts and have clear skin
1. Cleanse your skin regularly and don't exfoliate.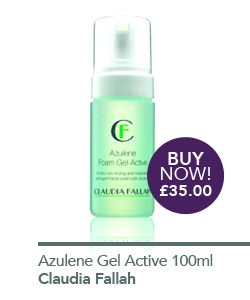 When it comes to cleansing, sometimes it seems to be an all or nothing mentality. You either forget to cleanse regularly or scrub your skin too much leaving it red, sensitive, dry, damaged and more prone to breakouts.
Stick to washing your face every morning and night before going to bed. Claudia Fallah's Azulene Gel (£35.00) is a foaming gel facial wash that has a refreshing aroma of distant summer's evenings in the Mediterranean orange groves. It has been formulated to cleanse and energise even the most delicate skin, leaving you with a fresher and even complexion.
2. Calm your skin with a toner.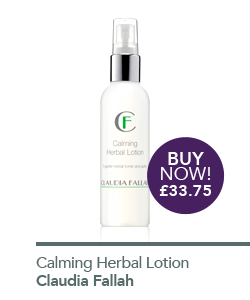 Once you have cleansed your skin with your chosen face wash, pat the skin dry with a towel and apply a toner. This is especially important if you experience excess shine or grease throughout the day, then a toner can be used to control and eliminate this and help prevent acne breakouts.
Calming Herbal Lotion (£33.75) by Claudia Fallah is a toner with an alcohol free spritz designed to soothe, calm, clarify and refresh your skin. This toner's ingredients include Honey, a natural antibiotic, Lavender and German Chamomile, to calm and balance, Thyme, renown in the treatment of boils, Witch hazel to tone and Aloe Vera to soothe your skin. All of these delicious ingredients come together with a beautiful aroma reminiscent of a hedonistic early summers day in the Provence.
3. Use a moisturiser even when you suffer from acne.
A moisturiser is not only a product for clear skin! Your skin needs to be kept hydrated just the same. There are plenty of moisturisers on the market today made with a man's acne prone skin in mind.
Most acne treatment medications cause dryness and make the skin flaky with redness, so a moisturiser is a must. If this is your case, Claudia recommends Intensive Repair Crème (£55.00). But if your skin is oily, then try Energizing beauty fluid (£79.00).
Remember to gently smooth the moisturiser into the skin after shaving.
4. Be careful when shaving.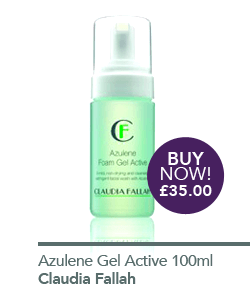 Shave lightly over acne affected areas and try not to drag your razor or nick spots. An electric razor may be less irritating than a traditional blade.
Claudia says "I believe that some men resort to dry shaving as this is less likely to cut the pustules, but you need to be thorough about cleaning your machines after each shave!"
Make sure that your razor is sharp no matter what type. Always shave in the direction of hair growth and after you shower, when hair is softened. Use warm water to wet your beard, but cold water to rinse your blade.
Avoid shaving when your skin is super inflamed as this can cause further irritation to your skin. "If you are looking to save time in the morning but still want a thorough shave whilst cleansing, Azulene Gel (£35.00) doubles up as a shaving foam too. Perfect two in one for cleansing and shaving".
5. Claudia's top tip: "A clean environment will improve your acne".
* Make sure towels are clean or use tissue instead for your grooming routine.
* Keep your pillowcases clean and changed regularly.
* Even mobile smart phones need a quick wipe to keep them clean!
All the above are very important to follow if you suffer from acne, as otherwise your skin can be re contaminated and hinder your recovery time!
Our cheat sheet to prevent acne breakouts